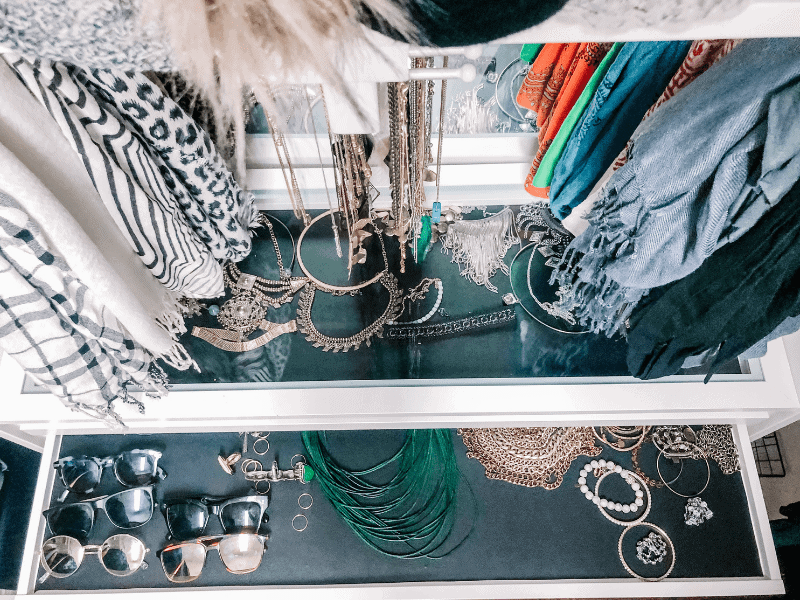 After years of trying different jewelry organization ideas, I have finally found the perfect jewelry organization system!  It is in my closet, & doesn't take up a lot of space.  I love that it is in my closet.  Choosing my accessories while deciding what I'm going to wear makes so much sense.  It also looks beautiful-  It makes me feel like I could be at a jewelry counter in Nordstrom.
How Can I Organize my Jewelry in my Closet?
My 2 favorite jewelry organization solutions for organizing jewelry in the closet are:
Let me tell you why the combination of these 2 make the perfect jewelry storage solution!
Long/Thin Necklace Organizer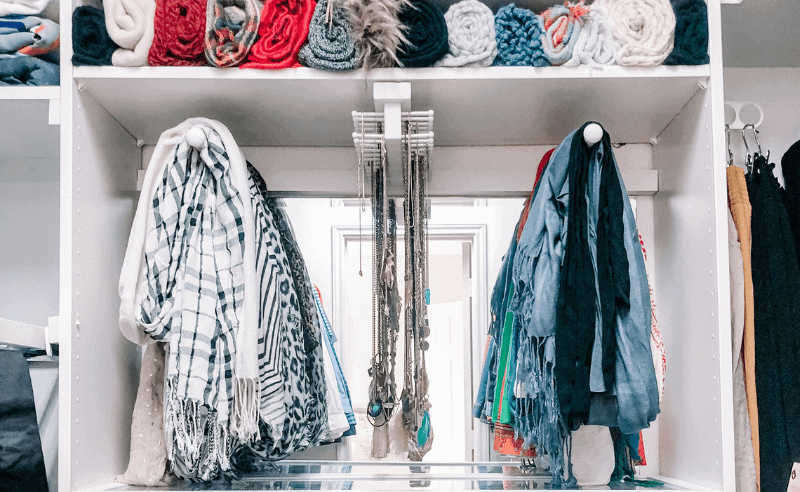 Long and Thin necklaces have to be hung to prevent them from turning into a tangled mess.  The tie butler is the most genius way to hang long necklaces and keep them from getting tangled. Although most necklace hook systems attach to the wall; Therefore they take up a ton of valuable closet space.  The Tie Butler attaches to the underside of a shelf; Thus it takes up a sliver of that valuable closet wall space.
After you install the tie butler, you will see that it's a piece of luxury.  It glides forward, and glides back in with a gentle stop.  It fully extends so that you can easily see & get to any necklace.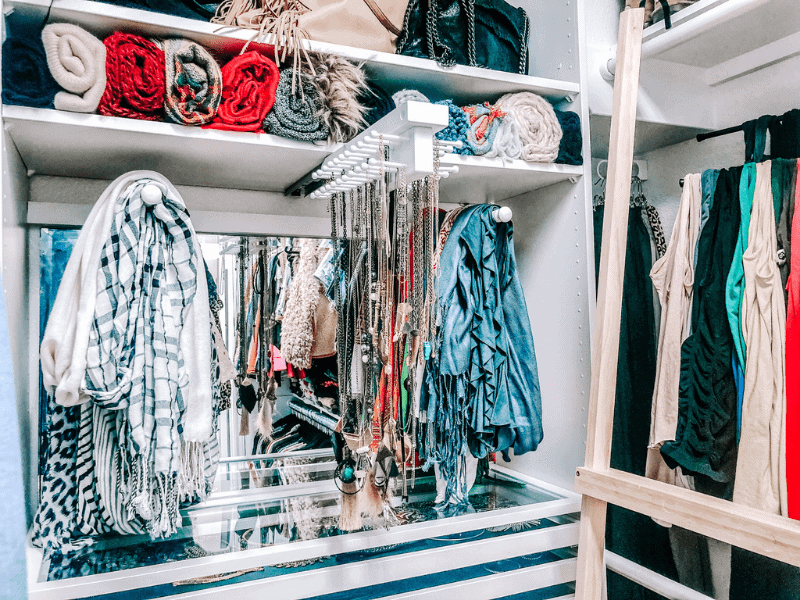 Installing the Tie Butler for Long Necklace Organization:
The tie butler comes as one piece, but can be taken apart for installation.  The metal track detaches from the top with a lever release.  Then you can easily attach the metal track to the underside of your shelf with screws.  The wood part of the tie butler then slides back onto the track.  It locks onto the track and won't come off unless you use the lever release. So you don't have to worry about that when you're gliding it out and in to peruse your necklace collection.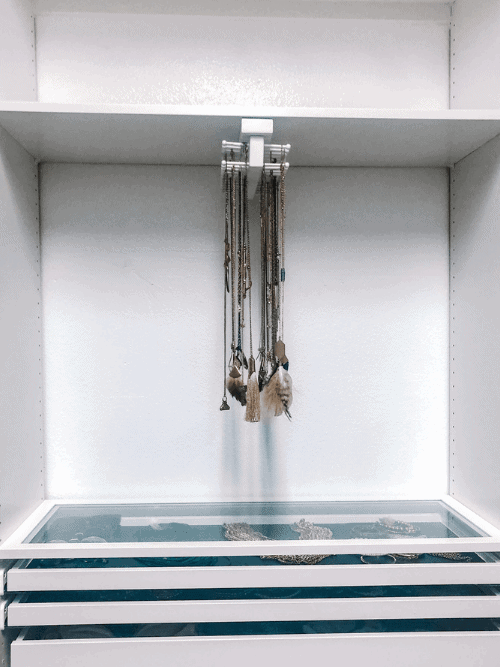 Once you get your tie butler installed you get to hang your necklaces on each peg.  Woohoo!!!!  I put the longest necklaces in the back and the shortest in the front.
As you can see in the picture above, you only need as much vertical space as the length of your necklaces.  When I first hung my necklaces, I realized I could lower the shelf they were on and create more closet storage space above it.  Woohoo!
The tie butler makes it easy to see all your necklaces.  Even if your collection gets a little larger, you can easily put 2 necklaces per peg and keep them tangle free.  The pegs are each long enough that the necklaces stay separate.
Your beautiful necklace collection is now on display.  You may find yourself wearing your necklaces more often now that you actually see them everyday!
Chunky Necklace Organizer
My favorite organizer for chunky necklaces are the Komplement trays from Ikea.  These trays hold a lot of jewelry.  Not only do I store my chunky necklaces in them, but I store everything that doesn't get hung on the tie butler in them.  It keeps it all easy to see.  I lined mine with black faux leather contact paper.  You could also use felt, cork, or velvet.  Anything with some grip will keep things from sliding when you open and close them.
I bought little square dowels to use as separators… But I decided against putting separators in because I can fit more jewelry inside each tray without separators.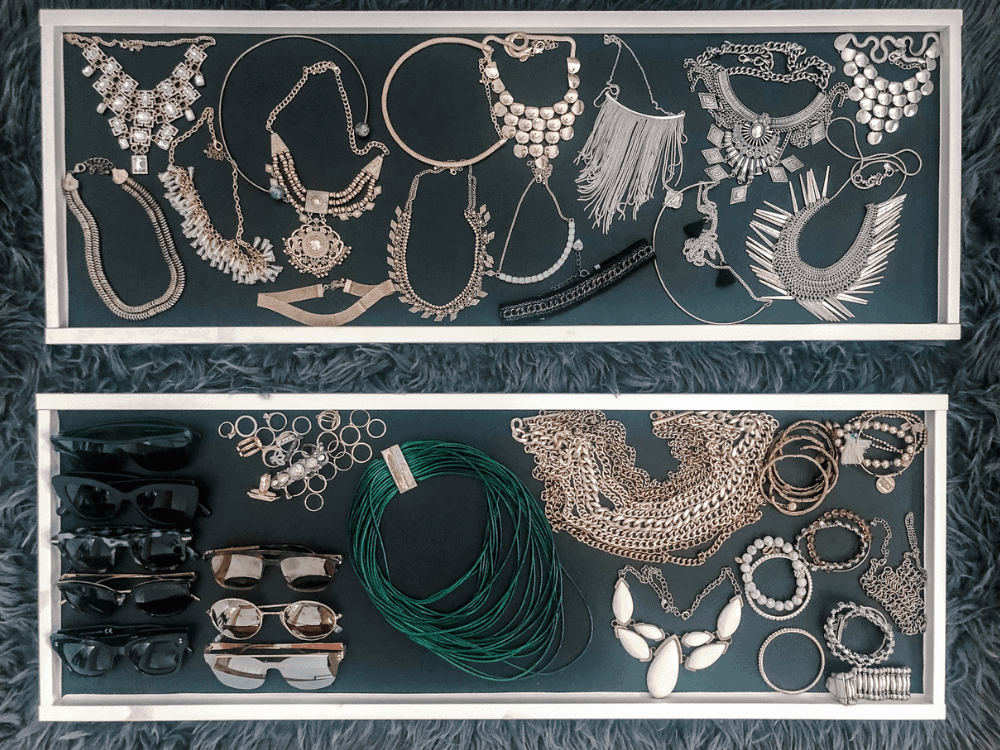 Getting an Ikea Pax frame is the easiest way to install these Komplement trays.  The Pax frame comes with peg holes so you just install the drawer sliders that the trays come with into those holes on each side.  I cut our Pax frame so that it serves more like a built-in with our upper closet shelves.
For even another level of luxury, add a glass Komplement shelf from Ikea over the top jewelry trays.  It is the most high class looking jewelry organization I've ever had!  I love how it looks as much just as much as how it functions.
I love these Komplement trays so much!  They take up hardly any space and store so much.  They softly glide in and out, and close softly.  They come in several different sizes and colors.  I might use them when I makeover my Makeup Vanity Area.  I'll keep you posted!!
Organizing Men's Jewelry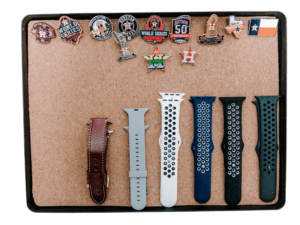 As far as men's jewelry organization- I've found my favorite organization system for that too!  These adorable metal trays that sit on my hubby's dresser.  Check out where I got them & all about them, Here!
Thanks for stopping by, come back next week for more closet organization inspo!!  Happy organizing!
More Genius Closet Organization Ideas:
(Click the picture to visit the page)